Category: Diary
Tags: School Menu

May-18
It's friday, which means I only have one class. I always try to eat somewhere different for lunch on days like this: the weather is nice, the wind feels so good: it's not too hot yet and it's not cold and raining anymore. I know these days in Tokyo do not last very long so I am cherishing them as best I can.
Anyway I went to a sushi restaurant today that's on my way home from school. It was a quiet little place with a few seats at the bar and a few 4-person tables lining the wall, which was decorated with old photos from before the current Heisei-era of people laughing and eating at the same bar I just seated myself at. It was 1PM so the lunch menu was still out. I am calling it a "menu" but it's just a piece of paper that has the menu written on it that sits on the table. All the items were written in the falling-down fashion with prices listed at the bottom using the traditional style.
I ordered a chirashi after I asked what all was in it, more so to satisfy my curiosity than to make a decision-point of it. The chef was surprised to find that I've never been to Japan before, maybe I just sounded like I knew what exactly what I wanted out of this chirashi but I really had no reservations for anything particular.
I enjoy the chirashi style because as the name implies, the raw fish and vegetables are around a bowl of rice. I also had a nice little salad and a strong cup of loosely-brewed green tea. They also provide a little dish of pickled ginger to flank each cut so their unique and rich tastes do not interefere with any other.
Anyway that was all pretty nice. I got up to pay and the little old lady told me she loved my shirt (o-share, which I've only ever heard to describe girl's pieces).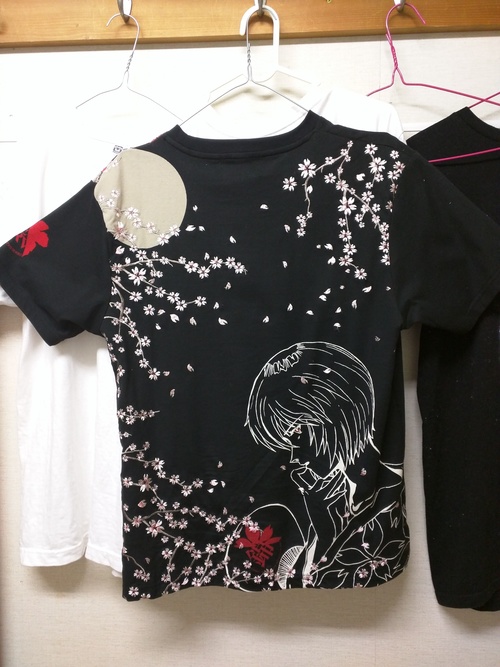 I was glad to share the time on a little conversation like that because I hardly find the chance to talk about anything other than the weather with strangers.
Although, last night I did get the chance to talk with a group of Americans who go to the same university I do, how interesting! Our study-abroad advisor came out to Tokyo and took us out to supper at an o-konomiyaki place. I was surprised to learn that she doesn't speak much Japanese. However, even my ability was put to shame by one of the girls in our party, who is conversational and quick to fire back. She helped to organize the group's check since alcohol couldn't be put on the school's bill. She's been here a full term in addition to this one, but even so her skill betrays that she practices more than you learn in school. Her habit contrasted so harshly against the rest of the party.
I talked to her some while we were walking back to the station. She wants to continue to study at the university's graduate school once she finishes her degree in North Carolina. There is some kind of parallelism between us. But all parallel items are not equal, this fact I remembered while we talking. What a relief!
---
Related / Browse